The rise of yard signs
Before the Covid-19 pandemic, yard signs were almost exclusively used by political campaigns and a handful of home service businesses — but the pandemic changed all of that. Now, this marketing tactic is used to transform lawns and intersections into front-page advertisements for all industries.
How yard signs took over the nation
In 2020, as lockdown began and celebrations were canceled, the use of lawn signs took off. Customized signs popped up everywhere showing support for front-line workers, applauding graduates, or sending students off to college. Signs planted in front yards became a way to stay connected, shout congratulations, and share joy with the people who pass our homes.
They were attention-grabbing and exciting, and more than three years later, yard signs have proved they are here to stay. Today, it's hard not to see one when driving around town. Lawn signs are still popular for personal use, such as garage sales, weddings, and birthday parties, but for businesses, they've become an effective marketing tool. Yard signs work because they are low-maintenance and low-cost. You don't need extensive marketing knowledge for them to work, allowing businesses large and small to take advantage.
Yard signs can be used for building general brand awareness in your community or for more specific purposes such as sharing open houses or advertising new customer promotions.
To make the most out of this marketing opportunity, customize your sign with a concise message and an easy-to-read font. Then, simply stand up your sign and let your business stand out.
Creative ways to use yard signs.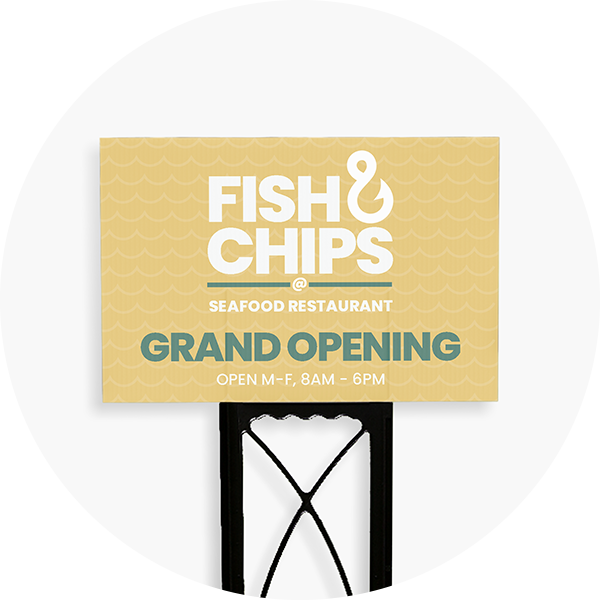 Generate buzz for the grand opening of a new store or restaurant location in town.
Get the word out about an event, concert, or convention that you're hosting. You can also use signs at your event to direct traffic or designate parking lots.
Advertise job openings with 'now hiring' signs. Don't forget to add the starting wage and the experience necessary to entice people to apply.
Catch the attention of passersby with signs sharing special deals or promoting curbside pickup and delivery.
Get started today!
Get started by filling out the form or giving us a call at 844-347-4162 and see how we can help your company. A sales representative will get back to you via phone within 24 hours of receiving your request.